B.A.P

members of B.A.P from their first album, Warrior (from left to right: Jongup, Youngjae, Daehyun, Himchan, Zelo, and Yongguk)

Debut

January 26, 2012

Number of Members

6

Company

TS Entertainment

Fanclub name

BABY

Official Website

Official YouTube Channel

TSENT2008
B.A.P, which stands for "Best Absolute Perfect," is a boy band under TS Entertainment, notably the agency of the girl group Secret. They debuted in January 2012, sporting a punk style for their debut single, "Warrior."
Pre-Debut
Edit
In March 2011, leader Bang Yongguk was featured in Secret's Song Jieun's solo song, "Going Crazy." In August, he made a solo debut with the song "I Remember" featuring Yang Yoseob of B2ST. Around that time, B.A.P ulzzang, Kim Himchan, became an MC on a music show. Member Zelo and Yongguk performed "Never Give Up" in November, under the name Bang&Zelo.
Also, Yongguk, Himchan, Youngjae, and Jongup have had small cameos in Secret's music videos, performances, and reality shows as backup dancers and extras.
In early January 2012, the show Ta-dah! It's B.A.P aired on MTV Korea, revealing for the first time B.A.P as a group.
On January 25, 2012, the music video for "Warrior" was released.
A video for a follow-up song, "Secret Love," was released on February 29, 2012.
TS has reported that B.A.P will be making their comeback in April.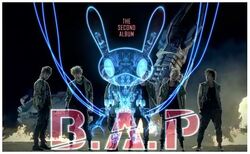 On April 19, 2012, TS Entertainment released a teaser for B.A.P's upcoming single called "Power." A second one was revealed on the 23rd, referred to as a "trailer." The full music video was relased on April 27.
Member
Birthday
Position
Bunny Color*
Bang Yongguk
March 31, 1990
Leader, main rapper
Red
Kim Himchan
February 19, 1990
Visual
Pink
Jung Daehyun
June 28, 1993
Main vocalist
Grey
Yoo Youngjae
January 24, 1994
Lead vocalist
Yellow
Moon Jongup
February 6, 1995
Main dancer
Green

Zelo

(born Choi Jun Hong)

October 15, 1996
Lead rapper, lead dancer, maknae
Blue

*In the show
Ta-dah! It's B.A.P,
six bunnies with different colors and features were used to represent each member.
Discography
Edit
2011 (pre-debut)
Edit
"I Remember" by Bang Yongguk ft. Yang Yoseob
"Never Give Up" by Bang&Zelo
Warrior - mini-album
Power - mini-album
No Mercy - mini-album
"Goodbye" -single
"Crash" - single
"Stop It" - single
"Rain Sound" - single
One Shot - mini-album
Appearances
Edit
2011 (pre-debut)
Edit
Secret Diary: TV reality show by Secret (Yongguk)
"Starlight Moolight" MV and performances by Secret (Yongguk, Himchan, Jongup, Yongjae)
"Going Crazy" by Song Jieun (ft. Yongguk)
Ta-dah! It's B.A.P TV show
Debut showcase
EatYourKimchi interview
Mnet Wide Open Studio interview
Younha's Starry Night radio show
The Star interview
Killing Camp game show