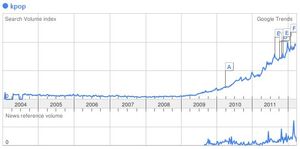 Hallyu means "Korean wave," and it is the spread of Korean culture, especially K-dramas and KPop, around the world. It has been spreading faster and faster recently, thanks to the use of the Internet.
Websites such as YouTube, Facebook, and Twitter allow Korean artists to promote and reach potential new fans all over the world. Other sites like Allkpop allow fans to share and spread KPop news, allowing users learn about old and new music and shows. Blogs such as EatYourKimchi give those outside of Korean a view of the country in a Western perspective.
Korean culture is much more popular and prevalent in Asian countries than Western countries, due to the geographical and cultural distances. However, KPop agencies have made many efforts to continue their Hallyu wave through the Internet and overseas concerts, such as the SMTown Live in New York and Paris.
A widespread acceptance of the Hallyu wave will be difficult, as there is much criticism of the culture. Nonetheless, the Hallyu wave continues to spread and a handful of fans and followers around the world support their favorite artists.