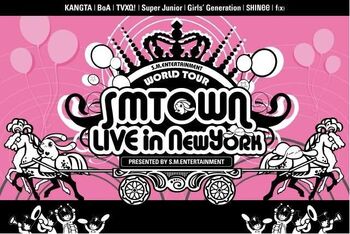 SM Entertainment is a music agency considered one of the "Big Three," alongside YG Entertainment and JYP Entertainment.
In the 90's, SM was at the head of the introduction of idols with popular groups like H.O.T, S.E.S, and Shinhwa. Today, the company still houses some of the top idols and artists: TVXQ!, BoA, Super Junior, Girls' Generation, SHINee, f(x), Kangta, and recently EXO.
SM has also been a large part of the Hallyu wave with its SMTown Live concerts in Seoul, Shanghai, Tokyo, Paris, New York, and more.
Ad blocker interference detected!
Wikia is a free-to-use site that makes money from advertising. We have a modified experience for viewers using ad blockers

Wikia is not accessible if you've made further modifications. Remove the custom ad blocker rule(s) and the page will load as expected.